When J.J. Stakem started his aviation consulting company in 2016, he was its lone employee. He began Objective Area Solutions converting one wall of his garage, already filled with gym equipment, into a whiteboard for whenever inspiration struck.
"I would just work out and draw, conceptually put things down," Stakem, a former Marine Corps pilot, told Military.com. "I did that probably for a year or so."
Stakem's startup has grown considerably since then, earning recognition on Inc. Magazine's 2023 Vet100 list of the fastest-growing, veteran-owned businesses in America. That list was compiled in conjunction with the Institute for Veterans and Military Families (IVMF) at Syracuse University, which coordinates the Entrepreneurship Bootcamp for Veterans (EBV).
Stakem was accepted into the EBV program months after launching Objective Area Solutions, and he considers what he learned there instrumental in helping craft his vision for the business. More than 2,200 vets have graduated from the EBV program since its launch in 2007. Besides Syracuse, seven other universities -- Texas A&M, UCLA, Connecticut, Missouri, Saint Joseph's in Philadelphia, Florida State and Louisiana State -- are also involved with the program.
EBV is divided into three phases, starting with a month of online courses centered around business fundamentals, followed by an intense 1½-week residency at one of the participating universities, and then a year of ongoing support. All costs, including travel, accommodations and learning materials, are covered, said Melissa Bird, project manager for IVMF's entrepreneurship and small business portfolio.
"Vets don't need any previous business experience or educational requirements," Bird told Military.com. "The main eligibility requirement is post-9/11 veterans with an honorable discharge and service-connected disability."
The economic impact of veteran-owned businesses is significant. The more than 320,000 businesses owned by vets in 2020 produced an estimated $927 billion in revenue and accounted for 3.6 million employees and nearly $177 billion in payroll, according to the Census Bureau's 2021 Annual Business Survey.
Businesses such as those started by Stakem and Chris Dambach, a retired Marine Corps infantryman, contributed to those statistics. Dambach started what became Industry Standard USA in 2010 in Syracuse, New York. The company handles general contracting but also offers such services as lawn care, snow removal, janitorial work, window washing and tree removal.
Dambach developed a sense for business early. When he was 10, he recalled hopping into dumpsters to retrieve scraps of wood left over from a large neighborhood development project. Dambach used what he found to build ramps, which he sold to older kids so they could jump their bikes.
"I was always hustling," Dambach told Military.com.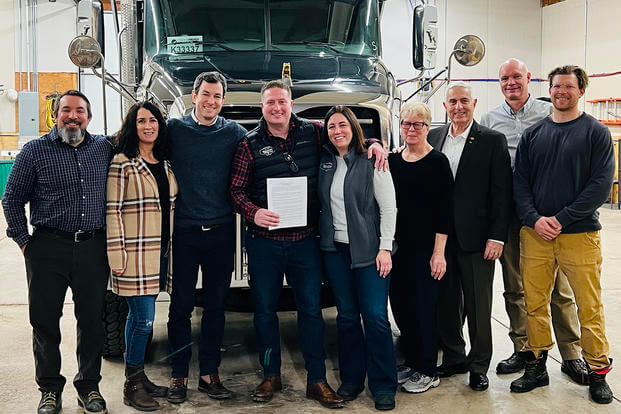 While on border patrol in Iraq, Dambach and others started talking about what they were going to do once they returned to the States. When it was Dambach's turn, he hesitated, unsure of his future plans. Asked what he was good at, he mentioned he had a lawn-care business in high school called the Yard Monkeys, and the group encouraged him to pursue that again after he transitioned out of the Marines.
Dambach accepted the challenge. Three years after starting his business, he was accepted into EBV. Before going through the program, Dambach described himself as "a little naive" about business and credited EBV with opening his mind regarding what his company could become.
"I would probably be years behind where I am today [without EBV]," Dambach said. "Being in a classroom of like-minded individuals and veterans that are trying to accomplish the same goals as you, entrepreneurship, there's something to be said for that. There's a certain energy in that room that can't be described."
As a veteran starting a business, Dambach stressed a willingness to think long term and not to expect overnight success. That's something Stakem understands as well. It took two years before he hired his first employee, a former Marine air traffic controller who is now Objective Area Solutions' chief operating officer.
All along, though, Stakem's company has benefited from a small board of advisers, using IVMF as a resource to help him find members.
"There's a balance between taking what you've learned in the military and also realizing there's a lot to learn about how to apply that outside," Stakem said. "... The most powerful thing I have, hands down, is my connection to other veterans. It's just a unique group of people that will help each other out almost all the time, and folks should ask for that help."
Stakem and Dambach have. They both said they stay connected to vets through the IVMF's entrepreneurship bootcamp program.
"Without EBV, I wouldn't be where I am today, for sure," said Dambach, whose company recently was part of a successful bid for a multimillion-dollar project to replace the parking lot at the VA hospital in Albany, New York. "I can say that without question."
-- Stephen Ruiz can be reached at stephen.ruiz@military.com.
Want to Know More About the Military?
Be sure to get the latest news about the U.S. military, as well as critical info about how to join and all the benefits of service. Subscribe to Military.com and receive customized updates delivered straight to your inbox.