In October 2021, Tucker Burns and Travis Gardner found themselves spending long nights after work at each other's homes. They were conducting research, crunching numbers and working on the hundreds of other details new businesses have to pore over before they launch.
After so many exhaustive nights, they came to the decision that many other small business founders come to eventually: Should they quit their day jobs to focus on the business? Their answer was yes.
Burns and Gardner had been building The Charge Stately Apparel since June 2021. The Charge makes upscale, quality polos and hats manufactured in the United States and gives 12% of its gross sales to veteran nonprofits. By the time that autumn of that year rolled around, they were exhausted.
"We realized quickly that if we didn't put everything we had into this, there was no way it was gonna get off the ground," Gardner tells Military.com. "We looked at other companies, both veteran-owned and the big corporations, and that's how they got started."
The two entrepreneurs are graduates of Parsons Mounted Cavalry, the last horse-mounted ROTC unit in the country, at Texas A&M University. This is where they first met. After graduating in 2014, Gardner joined the Air Force as a special agent with the Air Force Office of Special Investigations. Burns joined the Army as an armor officer.
Burns left the Army in 2018 and returned to Texas A&M to pursue a master's degree in land economics and real estate. During his course of study, he interned in China with manufacturing, distribution and supply chain executives. It was there that he was inspired to create manufacturing jobs in the United States.
Gardner was in the Air Force until 2020, separating to join a seminary school. He quickly learned that he wanted to help the military, veteran and first responder communities that had given so much and now needed help. Over the course of his military service, he saw the effects of trauma, the stigma of mental health services and the adverse effects of both in service members. Gardner began looking for a way he could help address it.
When the two reunited, they decided the best way to do it was to start making a high-quality polo shirt, one that officers could comfortably wear to military off-duty functions. They knew there was a certain style of dress expected of the officer ranks, and they were going to tailor their shirts for those in need.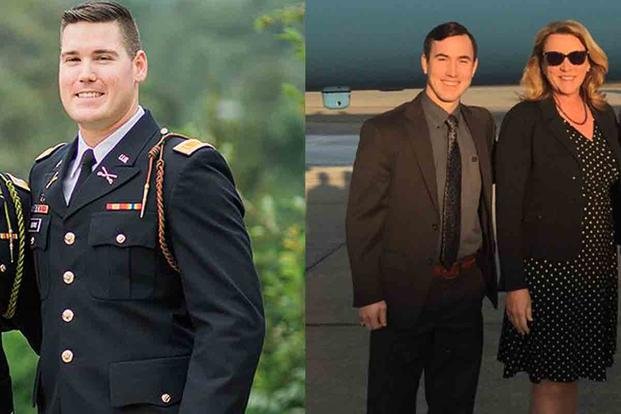 Most importantly, they were going to make sure their product was made in America and that its sales would help their communities find the help they needed. The Charge Stately Apparel was born.
"I'm passionate about this mental health initiative and having a tangible effect on creating healing for folks," says Burns.
Even with a big mission, their biggest problem as a small startup was the same problem echoed by many would-be entrepreneurs in America: capital. They had offers for investments, but were ultimately forced to turn them down.
"All the potential investors wanted us to reduce the 12% we were going to give back to nonprofit organizations," says Burns. "That and making our shirts in the U.S. are the only things we are not flexible on. We ended up self-funding to do all of this."
While that meant they had a lot of work to do on their own, it also gave them a degree of flexibility elsewhere. They could source their material from where they wanted and make sure it fit their vision. They were also able to think about their concerns and move after careful consideration -- at their own pace.
"No plan survives contact with the enemy, right?" Gardner says.
When they decided to give up working their day jobs and focus on what they were building for themselves and their communities, they were living up to the spirit of the cavalry, and of their company's name. A cavalry charge was a fearsome but risky tactic, one that could win the day, but was tricky to execute.
"At the end of the day, historically, it doesn't matter whether they won the battle or not," Gardner says. "They were remembered for calling the charge. We love that and we decided to go after our own charge in the same way, so that's what we did."
The two had limited knowledge in starting a small business, aside from what Burns learned in graduate school. They researched everything thoroughly, including where to source the material for their garments. Their real strengths are determination and the power of their mission, giving back to the veteran community.
"You'll figure it out," says Gardner. "If you put enough into it, you'll figure it out. There are people that are out there and that can help, and it's just about finding those people, even if we didn't even know how to find those people."
They did find those people. By putting in the work to literally go out looking for quality distributors, they found one that made clothing for high-end brands like Lululemon. Although normally an exclusive distributor, the company loved Burns and Gardner's mission so much, it offered its service.
In April 2022, The Charge launched its website. Not only did it cater to the needs of the professional officer corps of the U.S. military, the duo found some of America's most storied golf courses wanted their product, too. Most importantly, they are able to give that 12% to the charities that share their mission, starting with five nonprofits targeting veterans' issues, especially the PTSD Foundation of America and its faith-based, longitudinal mentoring program, Camp Hope.
"It's an inpatient facility that is a little more rigorous," Burns says. "At Camp Hope, you're around guys in different stages of the process. They work on getting you healed and then transitioning you back out, on your feet with a job. They have a really good follow-up network, too, with a 40% success rate against relapses."
The future isn't clear for any business, but Burns and Gardner have a lot to be excited about. With the successful launch of their website and interest from internationally renowned golf courses, they also have a lot to be thankful for. It all came from one fateful decision to charge.
"Sure, It's scary, but if you're not happy with where you're at and you don't feel you're doing what you feel called to do then, really, it's just like changing your perspective," says Gardner. "It's more risky to stay in something that is not what you're supposed to be doing, just sitting in this spot feeling like I don't have a purpose."
Burns echoes his partner's sentiments.
"What's the risk?" he says. "If you run out of money and have to go back to a job, there will be another job. You can always come back to square one, but if you never take that leap, then you have to live with the 'what-ifs' and regrets."
-- Blake Stilwell can be reached at blake.stilwell@military.com. He can also be found on Twitter @blakestilwell or on Facebook.
Want to Know More About Veteran Jobs?
Be sure to get the latest news about post-military careers as well as critical info about veteran jobs and all the benefits of service. Subscribe to Military.com and receive customized updates delivered straight to your inbox.