Some people like their coffee with all the cream and all the sugar. But if you order it from Augusta, Georgia-based Ubora Coffee, they may challenge you to really taste it first. That means taking it black.
The folks behind Ubora see coffee as a more complex drink -- one that you should taste before adding cream and sugar.
"It's not about disrespect," co-founder and co-owner Phillip Weisner said. "We know you're paying a lot of money for a bag of great coffee or a great cup, and we think you shouldn't have to add anything to it to enjoy it."
After all, you wouldn't order a medium-rare filet from a Lawry's Steakhouse and then cover it in A.1. sauce before tasting it.
Weisner has been on active duty in the Navy for nearly 15 years. He spent time in Hawaii as an in-flight technician on the P-3 Orion surveillance aircraft and now is an acoustic warfare operator, tracking submarines.
Andre Leon is also a co-owner and co-founder who began his career as an enlisted airframer but is now a Naval officer. Leon was born in Brazil and grew up in Argentina. He roasted coffee himself before talking to Weisner about opening a roastery.
The two worked together in the Navy for a long time and realized their hard work could be put to use pursuing a passion -- one that would last beyond their military careers.
Together with fellow sailor Walter Dyer, they bring their Navy work ethic to their dedication to great coffee, from the green bean to the way those beans are prepared for the cup.
"We envision teaching people about great coffee," Weisner said. "We do samplings, and we ask the customers to try the drinks of the day, or ones our baristas really like. If they don't like it, we'll make them whatever they want. But we want to teach them about that coffee."
If a pour-over or an espresso isn't your thing, you can still get a cappuccino. The folks at Ubora just want to open your mind to tasting a fresh brew the way it was meant to be tasted..
Weisner and his partners launched Ubora Coffee in 2017. Things didn't start out exactly the way they wanted, due to hiccups with the landlord and problems with their property. It was a situation that could have sunk the company altogether.
Like many small businesses, they had to take risks and put in a lot of hours of hard work. They persevered because of that work and because of who they hire.
"It's like being in the military," Weisner said. "You adapt and overcome."
How did the three active-duty co-owners manage to start and expand their business while still serving in the Navy? They love to hire veterans. Their roastmaster is a Navy veteran with 20 years of service. Their lead managing barista is disabled veteran. It makes a difference, and it shows.
Their original idea was to be a roastery putting high-quality coffee in stores like Whole Foods or Costco. But like all good ideas, it evolved. Now, they run a coffee truck in Jacksonville, Florida, along with a storefront in Augusta. Still, growth is difficult for any new business.
"Some places are worried that we're not gonna be around in a year or two, so that keeps us from getting into places," Weisner said. "But we come back and tell them 'Hey, we're still here.' And that has actually gotten us into some places. That, along with the quality of our work, our people and our product has gotten us recommendations and repeat business."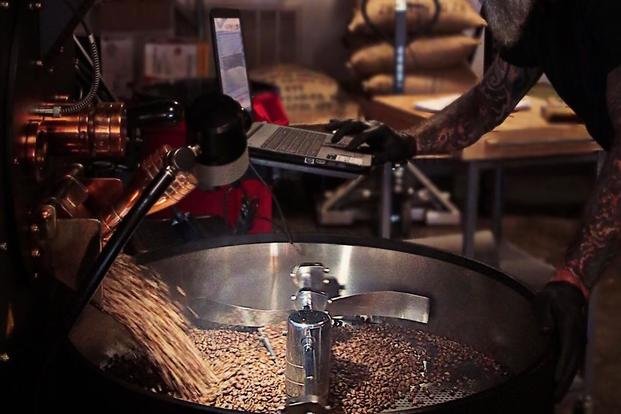 While everyone comes to the job with their individual education and experience, Weisner credits the Navy with giving them a unique set of skills that allowed the trio of sailors to succeed when the workload seemed overwhelming.
"We're a team, and it's all about time management," he said. "A lot of people don't realize the Navy gives us the skills of time management and resource management. I do my Ubora work in the morning, at lunch and in the evening. We do so much, and it just takes the careful use of time."
On top of all that, the company sources all of its coffee either through fair trade or in close conenction with suppliers and farmers. The idea is to ensure they have a sustainable, healthy supply chain, from Rwanda to Honduras and Ethiopia to Brazil.
"Our coffee is premium coffee that is hand-selected from around the world," Weisner said. "That's why we chose the name 'Ubora' -- it's Swahili for 'excellence.'"
If you're in the Augusta, Ga. area, stop by. You can also taste the difference by buying their coffees on Ubora Coffee's website.
-- Blake Stilwell can be reached at blake.stilwell@military.com. He can also be found on Twitter @blakestilwell or on Facebook.
Want to Know More About Veteran Jobs?
Be sure to get the latest news about post-military careers as well as critical info about veteran jobs and all the benefits of service. Subscribe to Military.com and receive customized updates delivered straight to your inbox.