Gabe George first competed in the Warrior Games in 2019.
Since then, he agreed to foster four of his sister's children, on top of raising his own daughter. Outside the home, the retired Navy hospital corpsman teaches pickleball to veterans, races sailboats and is a scuba diver.
Then in February 2020, George had his right arm amputated -- 12 years after losing feeling in the limb following a motorcycle accident.
So when the COVID-19 pandemic forced the cancellation of the Warrior Games the past two years, George was so busy that any feelings of disappointment didn't fester for long.
"I didn't have time to sit and wallow," George told Military.com.
Hosted by the Army's Training and Doctrine Command, the 2022 Department of Defense Warrior Games are scheduled for Aug. 19-28 at Walt Disney World near Orlando, Florida. Comedian Jon Stewart, a veterans advocate, will host the opening and closing ceremonies.
Teams of wounded, ill or injured service members and veterans from the Army, Navy, Air Force, Marine Corps and Special Operations Command, along with athletes from Canada and Ukraine, will compete in archery, cycling, indoor rowing, powerlifting, shooting, sitting volleyball, swimming, track and field, wheelchair basketball and wheelchair rugby. Golf will be staged as an exhibition.
"I was really humbled when I went to the Invictus Games [and was] able to watch the power of adaptive sports on individual recovery," Warrior Games director David Paschal said of watching the international adaptive sports competition in April in the Netherlands. "It just highlights the resiliency of our athletes.
"All of them have been dealt a tough hand of cards. I never hear any complaining. I never hear any sniveling. They're just about getting back, competing and training as part of their recovery."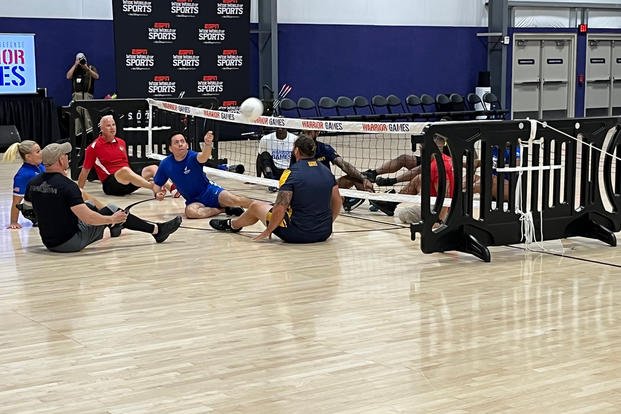 The Warrior Games had been held every year since 2010 until they were canceled in 2020 and 2021 because of a pandemic that has killed more than one million Americans. While the athletes certainly understood the reasons behind the decision, it was not easy for some.
Tech. Sgt. Kevin Greene, an Air Force reservist, admitted he fell into "a little bit of a depression" after the Warrior Games were scuttled the first time. As the pandemic went on, that feeling was replaced by gratitude as, George said, the Air Force coordinated training sessions via Zoom, held virtual competitions and checked in regularly to keep the athletes engaged. The other services developed similar outlets as well, a Warrior Games spokesman confirmed via email.
"They gave us purpose," Greene said. "They kept us going."
Army Pvt. 1st Class Darnell Boynton, who is recovering from surgery on his left knee in late December, is preparing for his first Warrior Games.
"Most definitely nervous," Boynton said. "Excited. I haven't been on a stage this big ever in my life, so this is quite different for me."
While Boynton is new to adaptive sports – generally defined as competitive or recreational sports for those with disabilities – George is not. George, though, was not introduced to them until he traveled to a Department of Veterans Affairs clinic for injured and ill veterans in San Diego; he believes it was in 2015, several years after his accident.
Demonstrations of various sports were held. Archery especially intrigued George, but with the use of only one arm, he wondered aloud whether he could do that. A coach suggested George tie a piece of string around the bow, pull back on the string with his teeth and then let go.
The first time George tried, he said the arrow hit the target.
"I went home that same week after the clinic and bought my first bow, and [people] looked at me like, 'What are you going to do with it?'" George said. "I was like, 'I don't know. Don't you worry. I will figure it out.' I started shooting like crazy."
Known as The One-Armed Archer on social media, George is so enamored with the sport that he said he overtrained during the pandemic, preparing for competitions that never happened.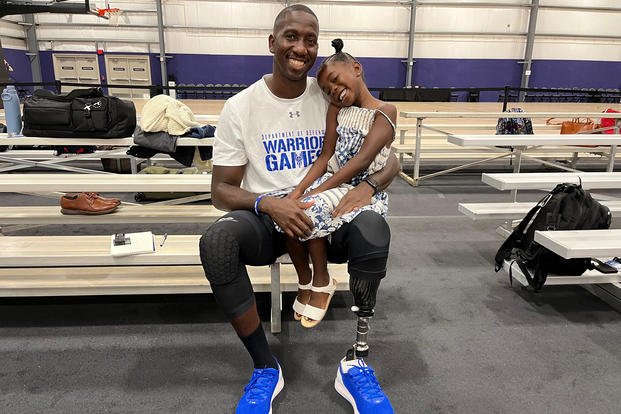 With the Warrior Games a few weeks away, George is ready to go. So is Greene, whose left leg was amputated after a motorcycle crash in 2014. He was motivated to try adaptive sports after attending the 2016 Invictus Games as a spectator. Those games were at Disney World, too, so Greene is looking forward to returning -- this time as a competitor.
Greene, who competes in six adaptive sports, will have his own cheering section at the Warrior Games. His father, who is recovering from a stroke, is expected to attend. So is Greene's 5-year-old daughter, Gianna, who was too young to remember when he competed in the 2019 Warrior Games.
Athletes are limited to competing in the Warrior Games twice, but exceptions can be granted on a case-by-case basis.
"She sees sports, but she sees me playing basketball differently than somebody standing up playing basketball," Greene said of his daughter. "I want to show her you can adapt to anything. Just because you might not quite have it, you can still do what you want in a different capacity."
-- Stephen Ruiz can be reached at stephen.ruiz@military.com.