When U.S. Army Special Forces are found in full kit, carrying weapons and ready for action, there's usually something historic in the works. They might be fomenting insurgency or capturing a high-value target, but when they're dressed for success in the Nevada desert, they're racing for The Great American Off-Road Race.
An Army Operational Detachment Alpha team joined the Mint 400 off-road race in March 2020, competing in the most prestigious off-road race in the country using a ground mobility vehicle (GMV) provided by the 5th Special Forces Group (Airborne).
The Mint 400 began its life in 1968 as "The Mint '400' Del Webb Desert Rally," so named for the Mint Hotel in Las Vegas. The first 400-mile race stretched from that hotel to the Sahara Tahoe Casino, on the border between California and Nevada.
That first race featured 101 vehicles, including motorcycles, dune buggies, cars and trucks alike. It repeated annually for 20 years until the Mint was sold to Casino magnate Jack Binion. It was revived in 2008 after laying dormant since 1989.
In 2020, the purse for the first-place winner was a whopping $125,000, but the Green Berets who entered the race that year weren't after the money. They were there for training. The GMVs they were driving were outfitted with the same equipment they would carry in the field and flying the Stars and Stripes.
"We have these vehicles loaded out how we would have them for combat and were excited to push their limits and see what they're capable of," the detachment commander told the 5th Special Forces' public affairs office. "These vehicles are not built as race vehicles, they are not built for speed, but we are looking to push the limit with them."
2020 was not the first year the military entered the historic race. The previous year, U.S, military members entered to raise money for the Marine Raider Foundation. Their presence was so welcomed by onlookers, the event organizer asked them to return.
"We're constantly looking to develop ourselves and our equipment and anything we can do to take us outside our level of comfort is great for us," the Operational Detachment Alpha commander said.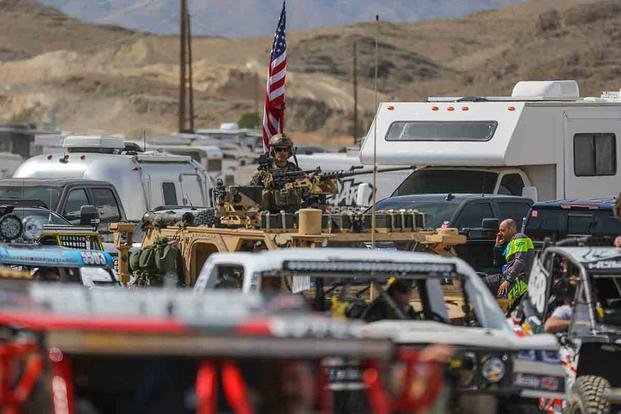 The Army detachment finished two 100-mile laps of the course, but they weren't really playing to win. In true Army fashion, they spent much of their time pulling other contestants' vehicles out of the sand when they foundered or towed them back to their pits when disabled.
"5th Group was able to put together a couple GMV 1.1s and get them out here fully kitted out to show the American people what we're all about and what we look like when we're out there fighting and defending this nation," Col. Jody Lynch, commander of Marine Forces Special Operations Command, said in a news release. "I think it's absolutely remarkable; it is exciting seeing this all come together."
-- Blake Stilwell can be reached at blake.stilwell@military.com. He can also be found on Twitter @blakestilwell or on Facebook.
Want to Learn More About Military Life?
Whether you're thinking of joining the military, looking for post-military careers or keeping up with military life and benefits, Military.com has you covered. Subscribe to Military.com to have military news, updates and resources delivered directly to your inbox.