Textron Systems is preparing to show off its vertical takeoff and landing unmanned aerial system in an Army drone rodeo at Fort Benning, Georgia, for companies competing to replace the service's RQ-7B Shadow.
The Future Tactical Unmanned Aerial Systems, or FTUAS, Rodeo will run through the first week of March and feature troops demonstrating drone prototypes from four defense firms that have been under soldier evaluation for the past year.
After a fly-off event in 2019 involving 11 drone vendors, the Army selected four finalists -- the Textron Aerosonde Hybrid Quad, Arcturus Jump 20, L3 Harris Unmanned Systems FVR-90 and Martin UAV V-Bat -- to participate in a capability assessment involving brigade combat teams, or BCTs, from the across the service.
Read Next: With Fewer US Troops in Europe, MQ-9 Reaper Drones Are Filling the Gap
The replacement for the Shadow will have to be quiet, easily transportable and able to take off and land without runway requirements.
"We are absolutely excited about where the Army is taking this more expeditionary system for the BCTs," Wayne Prender, Textron Systems' senior vice president for air systems, told defense reporters Thursday.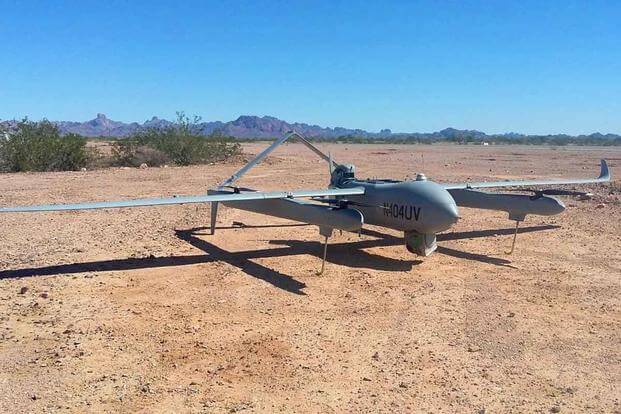 The Aerosonde Hybrid Quad features a vertical takeoff and landing system kit that has been installed onto Textron's baseline Aerosonde 4.7 fixed-wing drone. Prender described it as the "workhorse of our fleet with over 500,000 hours of flight operations ... almost all of which are done in conflict."
Currently, the Aerosonde 4.7 drone is operating around the world in support of U.S. and allied forces through contracts with the U.S. Special Operations Command, U.S. Naval Air Systems Command and the U.S. Air Force, Prender said.
The new Aerosonde Hybrid Quad features "additional advantages that the Army is specifically looking for in its future tactical system -- paramount to that is the expeditionary footprint," Prender said.
A package of three Aerosonde Hybrid Quads with fuel and spare parts, weighing less than 3,000 pounds, can be loaded onto a standard U.S. military air cargo pallet, Prender said.
"That allows us to be internally transported in a [CH-47 Chinook] and then off-loaded and up and operational in less than 20 minutes," he said. "That is extremely critical for the Army as they look at how they are going to employ and maneuver this system."
Textron's entry into the drone rodeo at Benning will be the same system it delivered to the 1st Stryker Brigade Combat Team at Joint Base Lewis McChord, Washington, but will feature an upgrade it provided to the unit allowing soldiers to control the drone while moving in a tactical vehicle, Prender said.
"We were successful in providing new capabilities midstream during the FTUAS evaluation," Prender said. "Whether it is a Humvee or a [Joint Light Tactical Vehicle] or any other vehicle in the Army inventory, that allows them to extend the reach; it allows them to avoid any specific [radio frequency] signature [that can be detected by the enemy]."
The drone rodeo will feature soldiers demonstrating the systems from the four vendors, but the event will not result in a winner. The yearlong soldier evaluations of the four prototypes and the feedback gathered from the rodeo will be used to refine Army requirements for the Shadow replacement.
-- Matthew Cox can be reached at matthew.cox@military.com.
Related: Army Field-Testing Quieter Drones to Avoid Enemy Detection