People have been asking for ways to replace normal outdoor workouts and running during the fires this year on the West Coast. Many ask whether it is safe to go for a run in areas where there are no fires, but the winds are bringing the smoke and haze into the area.
This is a great question, and I have an easy answer for you with three levels of response as to whether you should consider doing something indoors.
Use this common-sense approach:
DO NOT GO OUTSIDE TO EXERCISE IF:
- You can see the smoke/haze
- You can smell the smoke.
- The AirNow.gov site shows a poor Air Quality Index for your area.
If you can smell or see smoke and other pollutants floating in the air or coating the ground or your car, stay inside. There is no gray area here. Your run would be like smoking a pack of cigarettes.
Check the Air Quality Index (AQI) to see what the score is for your area. For instance, a reader was telling me of his current situation and asked whether he should do his run workout outside or stay inside. He lives in a town outside of Portland, Oregon. I went to the AQI website and looked up his town. I found it was at dangerously unhealthy levels (AQI of 281).
See below for AQI Range Details.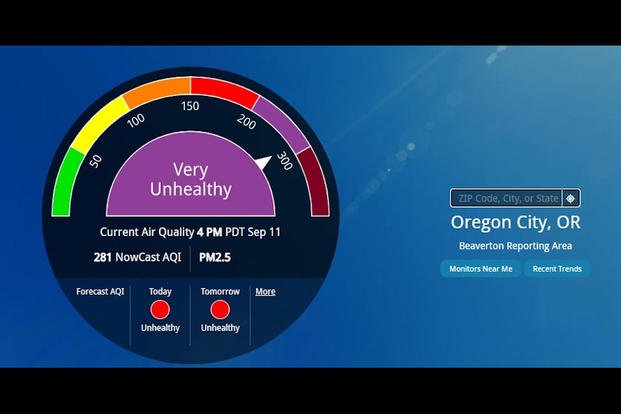 He did say he could see and smell the smoke. I told him to stay inside and use his stationary bike with this workout:
The regular workout was a Run and Leg PT Day with a 20-minute run and then a series of goal pace running intervals (8 x 400 meters mixed with squats and lunges).
Here is the replacement: Bike or Run and Leg Day (stationary bike or treadmill)
Squat pyramid 1-10 with 25 dynamic stretches in between sets
40 minutes on the bike mixing in 1-minute sprints and 1-minute easy pace for 10-15 minutes, then 15 minutes of Tabata intervals (20 seconds sprint and 10 seconds easy) and pyramids for 10-20 minutes (each minute increases with resistance a level until unable to maintain a pace of 70-80rpm). Then, repeat in reverse order if you have time.
Squat pyramid 1-10 with 25 meter runs or dynamic stretches in between to prep for lift.
Supplemental Workout: option
Repeat 3 timesBike 5 minutes Tabata interval Lunges 10 per leg KB farmer walks 3 times up and down stairs Hanging Knee-ups 10-15MJDB#2 -10
NOTE: You should also keep doors and windows closed, check for leaks and cover them. Change your air filter, especially if you can smell smoke in your home. Here is more info on the AQI from AirNow.gov:
The AQI uses the range of quality from 0 to 500. Any AQI value over 100-150 is bad; the higher it goes, the worse the level of air pollution and the greater the health concern. For example, an AQI value of 50 or below represents good air quality, while an AQI value over 300 represents hazardous air quality.
For people with heart and lung issues, anything over 100 is dangerous but,as you get above 150, running outside is not recommended even for healthy people. Here are the 0-500 break down zones: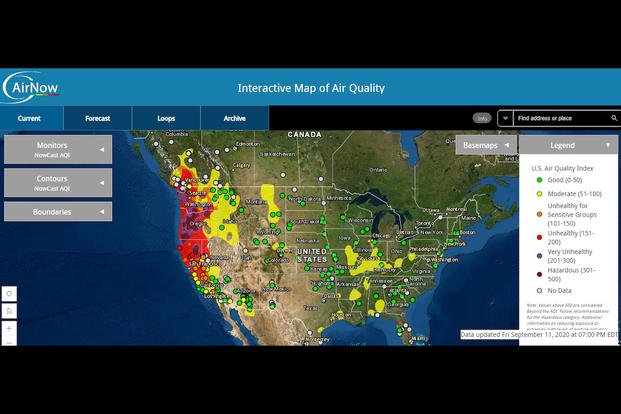 The Air Quality Index Zones
0 to 50 is GOOD -- Air quality is satisfactory, and air pollution poses little or no risk.
51 to 100 is MODERATE -- Air quality is acceptable. However, there may be a risk for some people, particularly those who are unusually sensitive to air pollution.
101 to 150 is UNHEALTHY FOR SENSITIVE GROUPS -- Members of sensitive groups may experience health effects. The general public is less likely to be affected.
151 to 200 is UNHEALTHY -- Some members of the general public may experience health effects; members of sensitive groups may experience more serious health effects.
201 to 300 is VERY UNHEALTHY -- Health alert: The risk of health effects is increased for everyone.
301 and higher is HAZARDOUS -- Health warning of emergency conditions: Everyone is more likely to be affected.
This is serious. Poor air quality can be caused by smoke from fires, sand storms, allergens, heat and humidity. Running increases your air intake 10-15 times over just sitting.
When pollutants (allergens, ozone, smoke, carbon monoxide) are high, you can do temporary or permanent damage that may lead to COPD, bronchitis or pneumonia even in healthy people. There is no need to run in that mess. Stay inside when the AQI is high.
-- Stew Smith is a former Navy SEAL and fitness author certified as a Strength and Conditioning Specialist (CSCS) with the National Strength and Conditioning Association. Visit his Fitness eBook store if you're looking to start a workout program to create a healthy lifestyle. Send your fitness questions to stew@stewsmith.com.
Want to Learn More About Military Life?
Whether you're thinking of joining the military, looking for fitness and basic training tips, or keeping up with military life and benefits, Military.com has you covered. Subscribe to Military.com to have military news, updates and resources delivered directly to your inbox.