Training for the military's various new tactical fitness tests is going to be much different than training for the standard PT tests. Many of these new assessments go beyond the standard run and calisthenics model and into classic event tests that many athletes use to make sports teams.
Here is an email from a young man who is preparing for the challenges of the Air Force Special Warfare pipeline.Hey Stew. Thanks for your training programs for the Physical Abilities/Stamina Test (PAST). I am now well-prepared for that test, but I hear the training process will also include the Operator Fitness Test (OPT) sometime during Prep and during the training pipeline after selection. Any recommendations? Thanks, Seth
Seth, you are right. The Air Force is adding additional exams to test all the elements of fitness for their special operators fully. The stated goal of the Air Force Special Warfare (AFSW) Operational Fitness Test (OFT) is to test all of the elements of fitness needed to be a better tactical athlete.
The USAF has figured out how to do exactly that with the OFT. A tactical athlete needs strength, power, speed, agility, muscle stamina, endurance, flexibility, mobility and grip.
You will not need world-class scores in the following events, but getting really good at all of them will be your goal as a tactical athlete.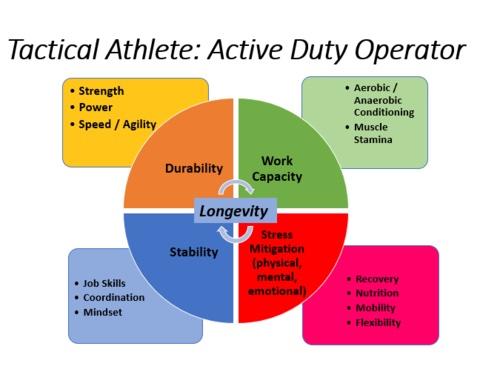 The Air Force Special Warfare community includes the following job specialties: Pararescue (PJ), Combat Control (CCT), Special Reconnaissance (SR), Tactical Air Control Party (TACP), Special Tactics Officer (STO), Combat Rescue Officer (CRO) andTactical Air Control Party Officer (TACPO) operators.
Trainees in the pipeline also will see this test during the prep phase and more times throughout the process of becoming an operator. Not only should a candidate, student and the eventual operator be able to crush the PAST, but they should be able to handle the OFT.
If you have any athletic history or strength training in your background, none of these events will be foreign to you. You still should practice the exercises often enough to build a strategy for taking this test, so you will not fail on test day and be dropped from the program.
PT Test Uniform: Combat top and bottom with boots. The swim is done in top/bottom, booties, fins, mask with optional snorkel using side stroke, CSS or Lead Arm Trail Arm (LATA).
Any score below the event minimum number on the chart is considered a failure for the event. Make sure your scores add up to higher than 78 points or above.
| | | |
| --- | --- | --- |
| OFT Event | Maximum Score (Points) | Minimum Score (Points) |
| Ruck: 3 miles (60 pounds) (Pass or Fail) | 49 minutes (20) | 49 Minutes (20) |
| Standing Long Jump | 94 inches (10) | 76 inches (8) |
| Pro Agility Test (Left Side Start) | 4.99 seconds (5) | 5.5 seconds (3) |
| Pro Agility Test (Right Side Start) | 4.99 seconds (5) | 5.5 seconds (3) |
| Trap Bar Deadlift (3rm) | 360 (10) | 270 (7) |
| Pullups | 16 (10) | 10 (6) |
| Farmer Carry 2 x 53lbs KB 100yds | 21 seconds (10) | 29 seconds (7) |
| 12 x 25yd Shuttle Run (2x / average time) | 67.7 (10) | 80.5 (8) |
| Select Run or Swim Event |   |   |
| 1500m fin swim (side, CSS, or LATA) | 34:37 (20) | 42:50 (16) |
| 1.5 mile run | 10:10 (20) | 12:17 (16) |
| Totals (max / min) | 100 points max | 78 points min. passing score |
Do not limit yourself to training only for the PAST. That tests your ability to get into the training, not successfully through the training and selection pipeline.
Rucking, jumping, agility runs, deadlifts, farmer carries and swimming with fins will require some additional exercises compared to the PAST Prep. Doing a block periodization cycle of strength, speed, agility and rucking should be part of the journey. Make sure you leave no element of fitness underdeveloped while still maintaining your current strengths and gains.
If you have a solid background in strength and power lifts alongside an athletic history of sprinting and agility work, you should be solid enough to score well above the minimums.
But do not leave anything to chance. Give yourself time to train and test yourself during your preparation before you reach the selection pipeline to assess any weaknesses. This way, you will have time to correct any deficiencies.
Stew Smith is a former Navy SEAL and fitness author certified as a Strength and Conditioning Specialist (CSCS) with the National Strength and Conditioning Association. Visit his Fitness eBook store if you're looking to start a workout program to create a healthy lifestyle. Send your fitness questions to stew@stewsmith.com.
Want to Learn More About Military Life?
Whether you're thinking of joining the military, looking for fitness and basic training tips, or keeping up with military life and benefits, Military.com has you covered. Subscribe to Military.com to have military news, updates and resources delivered directly to your inbox.