If you are looking for fitness products to give this holiday season, then check out some of the deals for those who are thinking about starting a fitness program as well as those advanced fitness fanatics. These products are currently on sale and built to last.  Here are some of my favorite pieces of gear that I tested out this year:
GoRuck.com: This company is a class-act tactical fitness gear developer.  Founded by former special-ops soldiers, their backpacks, sandbags, hydration packs and more are tested constantly in their worldwide events. GoRuck is featuring deals that save you up to 20% on simulated Special Operations training and more on their American-Made products, each one featuring a lifetime guarantee. See HO HO HO Low Prices.
TRX – Suspension Training: If you are looking for the ultimate tactical fitness piece of gear, invest in a TRX.  It has the ability to replace just about any weightlifting device and works the core, balance and stability of your joints like very few items on the market.  Save 20% and get free shipping; use SECRET code.
Pullup – MegaBar: Now here is a new item I tested recently. It's not even on the market yet, but I liked it so much that I am adding it to the list.  This is not just your standard door-jamb, pull-up bar; it is actually much sturdier and doubles as an Olympic barbell (curl bar). No kidding, it handles 200 pounds easily if you can.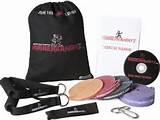 Rubber Bands and Other PT Accessories - Rubberbanditz.com: If you need help with pull-ups and don't have machines or weights, these rubber bands can actually help you with negative repetitions and assisted pull-ups. But they can do so much more, like work the legs with squats and lunges, and work the chest and shoulders with push-ups and chest presses.  These easy-to-use accessories to your PT workouts are even easier to pack and take in your travel bag for a great hotel-room workout, too. The site is loaded with programs, video exercise ideas and tips on how to master the bands of fitness.
There are many great ideas on fitness programs, accessories, products and events that may help you rekindle the spark if your workouts have gone stale. Hang in there and make 2015 one of your healthiest ever.
Stew Smith is a former Navy SEAL and fitness author certified as a Strength and Conditioning Specialist (CSCS) with the National Strength and Conditioning Association. Visit his Fitness eBook store if you're looking to start a workout program to create a healthy lifestyle. Send your fitness questions to stew@stewsmith.com.
Want to Learn More About Military Life?
Whether you're thinking of joining the military, looking for fitness and basic training tips, or keeping up with military life and benefits, Military.com has you covered. Subscribe to Military.com to have military news, updates and resources delivered directly to your inbox.