The name of the Air Force Special Warfare recruit fitness test has been updated from the Physical Ability and Stamina Test (PAST) to the Initial Fitness Test (IFT). This clarification has long been needed for military members who are taking the steps from the recruit to student to operator phases in all the branches of the military special operations world.
With recent changes from standard fitness tests to the more tactical and combat fitness tests used by the Army and Marine Corps, it can be confusing to a recruit who is trying to prepare as best they can. Then, as recruits start the journey into special operations training, there will be several tests they have to take throughout the process.
Every military branch has its own fitness test. The standard Air Force fitness test is the one that all members of the Air Force take from basic military training throughout their career.
Depending on the branch of service, there may be a special fitness test at basic training (like the Army Occupational Physical Assessment Test, or OPAT). Often, due to the job selected during the recruitment process, there will be yet another test, especially if the recruit is a special ops candidate.
Now, the qualifying test for the special operations candidate or recruit who wants to enter the Special Warfare Training Program will be the Air Force Special Warfare Initial Fitness Test (see official score sheet dated November 2021).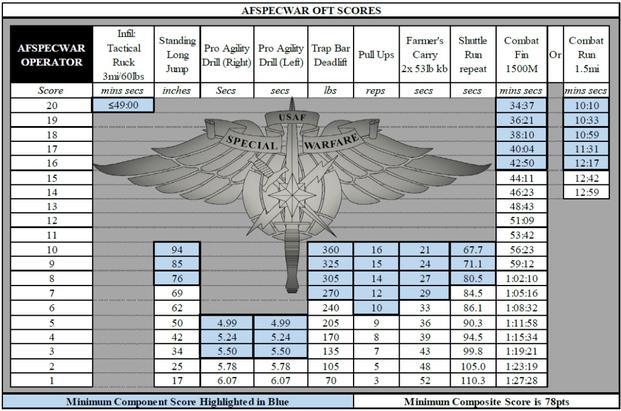 This chart has all Special Warfare career standards (officer and enlisted) on one sheet. They include:
Special Warfare open enlistment recruits
Pararescue (PJ)
Combat control technician (CCT)
Tactical air control party (TACP)
Special reconnaissance (SR)
Explosive ordnance disposal (EOD)
SERE instructor (survival, evasion, resistance, escape)
There are officer scores and testing differences for the following roles:
TACP officer
Special tactical officer (STO)
Combat rescue officer (CRO)
The Initial Fitness Test is the same as the latest update to the PAST with the following events (see score sheet for the individual career requirements):
Pull-ups: 2 minutes
Rest: 2 minutes
Sit-ups: 2 minutes
Rest: 2 minutes
Push-ups 2 minutes
Rest: 10 minutes
Timed run: 1.5 miles (3 miles for officers)
Rest: 30 minutes
Underwater swim: 25 meters
Rest: 3 minutes
Underwater swim: 25 meters
Rest: 10 minutes
Swim: 500 meters (1,500 meters for officers)
Once the Special Warfare candidate passes this test during the recruitment process and again during the preparatory school phase, they will officially be students and will now be required to pass many other tactical fitness standards, including pool skills, longer runs, rucking, and other load-bearing and team-building events.
Somewhere during this Special Warfare journey, the candidates will see the next tier of testing. The Operator Fitness test was formerly called the Tier Two Fitness Test and consists of the following:
Ruck: 3 miles
Standing long jump
5-10-5 Pro Agility Test (left and right)
Trap bar deadlift: 3 reps at max weight
Pull-ups: max reps
Farmer carry sprint: 100 yards (2 x 53-pound kettlebells)
Shuttle run: 300 yards (12 x 25-yard shuttle) two times
Swim: 1,500 meters with fins (Side, CSS, LATA sidestroke)
OR
The name change takes away much of the confusion for Special Warfare recruits by simply naming the first fitness test as the Initial Fitness Test and the second fitness test, which will be done later in the pipeline and upon graduation from operator school, as the Operator Fitness Test.
However, this article is not only about helping young recruits to train for the tests in front of them. Recruits must be able to pass these fitness tests easily but then endure some of the toughest training in the military.
For many recruits, the pool evolutions that come before starting dive school are the biggest challenge. You must be able to tread, swim efficiently on the surface -- using many strokes with and without fins -- and demonstrate underwater swimming abilities.
Land warfare training can be equally challenging with heavy rucking, faster and longer runs, other load-bearing, and frequent high-repetition calisthenics.
Once you pass selections and assessments, tactical training will test your ability to learn new skills. You must be able to replicate them to the instructor's requirements effectively if you want to continue along the training pipeline.
You will learn SCUBA diving on both open-circuit and closed-circuit equipment, static-line jumping, free-fall parachuting, SERE training and, depending on your Air Force specialty code (Air Force job), more advanced training in medicine or air traffic communications.
The better equipped you are to handle the physical challenges during a long day of special ops training, the better you can learn the tactical aspects required for your new career.
Stew Smith is a former Navy SEAL and fitness author certified as a Strength and Conditioning Specialist (CSCS) with the National Strength and Conditioning Association. Visit his Fitness eBook store if you're looking to start a workout program to create a healthy lifestyle. Send your fitness questions to stew@stewsmith.com.
Want to Learn More About Military Life?
Whether you're thinking of joining the military, looking for fitness and basic training tips, or keeping up with military life and benefits, Military.com has you covered. Subscribe to Military.com to have military news, updates and resources delivered directly to your inbox.